We're going to be discussing RCM, revenue cycle management, which is the process of identifying, practicing, and managing your practice's revenue. RCM is consistently adapting to allow healthcare workers to optimize the outcomes. Over the years, the healthcare system has changed to accommodate new research findings on topics such as treatment effectiveness, ethical considerations, virtual healthcare, diagnostic tools, and more. "A majority of healthcare organizations have been on a journey to upgrade core applications — in fact, 99% are in some stage of digital transformation" (Barrett & Haduch, 2022). Healthcare will always be an everchanging system, striving to improve the patient quality of life and patient experience during treatment.
Benefits of KPI Metrics
The grand gesture of technology integration promises to provide the healthcare system with financial stability, more time treating patients, and support with complex issues to avoid lengthy waits. Although these benefits take time to implement, using the KPI metrics to consistently monitor RCM data and make changes when trends are identified will procure profits over time. However, like any new endeavor, there will be unfamiliar systems to learn, additional administrative costs upfront, and new challenges to overcome.
RCM KPI Challenges for Behavioral Health Providers
There is no one fits all formula when it comes to best practices in terms of KPI metrics. Rather, agencies can identify what metrics they would like to track by basing the target items on their business model. Stall (2021) suggests the following RCM KPI measurements to aid in tracking the performance and progress across the RCM include:
Accurate reimbursements
Create a system for tracking denials and analyzing trends.
Know the precursors to RCM performance descent
Cash acceleration is another beneficial activity that can increase RCM KPI
Evaluate and analyze KPIs often to promote optimal RCM performance
Union of Two Powerful Tools
There does appear to be an increased benefit of uniting two powerful resources together to enhance the overall performance and outcomes. That is utilizing revenue cycle management software in conjunction with an experienced billing specialist equipped to monitor and analyze data in real-time (Stall, 2021). This added level of oversight and expertise allows ABA providers to rest easy and take a deep breath. ABA agencies who undergo the rejuvenation of their billing management feel renewed and have a newfound confidence in themselves as a knowledgeable leader guiding their company to success.
Credentialing is Essential to RCM KPI
There are various elements that can interfere with an ABA agency's revenue cycle. While some are more apparent than others, the Medical Group Management Association (2021) highlighted how credentialing issues could substantially hinder the financial stability of an ABA business. When denials are given at this first stage of the process, it can set the tone for the entire process. Jebson (MGMA, 2021) stated, "practices would do well not to underestimate what a poorly organized credentialing process can do to its revenue cycle." A stat poll conducted by MCMA in August 2021 rendered data where more than 50% of denials were related to credentialing issues (MGMA, 2021).

Logical Credentialing Strategies to Avoid Denials & Delays
Stall (2021) shares how "the credentialing process can be challenging." ABA providers will send credentialing or enrollment forms that are incomplete or not updated. The ability to track and manage the paperwork going in and out is not feasible without proper tools and experience. Stall (2021) discussed the excessive delays and non-responsiveness of payers during the pandemic, noting how a lot of payers were short-staffed and attempting to set up a space to work from home. Additionally, ABA providers sent incomplete forms, inaccurate information and struggled with identifying staff to manage the credentialing process. The biggest takeaway from these examples is the unpretentious fact that if a denial is received, there is an error, and it needs to be corrected and resubmitted promptly (Stall, 2021). The other essential aspect to highlight is the mistakes made were completely preventable (Stall, 2021).
Seek to Understand
The next reasonable course of action would be to gain more information from the payer. It may help build rapport and humanize the situation, it also provides the opportunity to gather as much information as possible so changes can be made to documents and templates to further streamline expectations within the software (Stall, 2021). The concept of preventative denial management is to save time and revenue. A little more time up front will save a considerable about of time and revenue for the months, and possibly years to come.
Lack of Provider Service Guide Decreases Quality
National Rural Health Resource Center (NRHRC) partnered with Delta Regional Community Health Systems (DRCHS) on a grant-funded initiative supported by the Health Resources and Services Administration (HRSA) of the US Department of health and human services (HHS). NRHRC and DRCHS collaborated on the creation of a guide with the intended purpose to increase understanding of the collective best practice procedures for RCM, with hopes to inspire healthcare organizations to evaluate current procedures and identify areas where performance improvement plans would benefit the overall RCM for the organization ("Revenue Cycle Management," 2021 p. 2).
Denial Avoidance through Tracking, Analyzing, and Modifications
One key element of successful RCM highlighted how "monitoring, tracking, and reporting of denials are essential functions of a successful denials management program. Identifying trends and root causes of denials is a critical step when moving from denial management to denial prevention" ("Revenue Cycle Management," 2021 p. 2).
Payers Increase Number of Services Requiring PA
Recently, healthcare providers are noticing what appears to be an increase of prior authorization (PA) for services previously provided without a PA needed. The figure below, courtesy of MGMA Stat (2021), provides a visual analysis of the poll conducted on May 19, 2021. Notably, 81% of medical groups subjectively stated there has been an upsurge in payers' prior authorization (PA) requirements.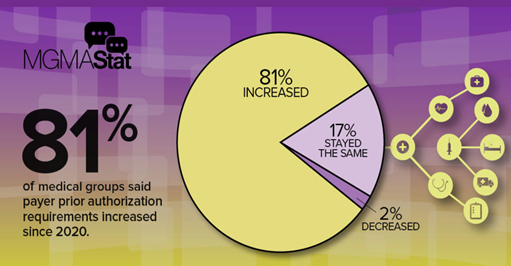 PAs Elevate Financial Burden & Delay Services
The uptick of policy changes results in service delays for patients, considerable increase of denied claims, revenue decreases for unpaid claims, and the need to hire administrative personnel to manage RCM KPI, resulting in unplanned overhead costs.

MGMA Data Polls May 2021
Ernst (2021) published an article in the Medical Group Management Association (MCMA) and shared data from a poll conducted on May 18th, 2021:
Medical groups faced unprecedented challenges stemming from the COVID-19 pandemic last year. Through MGMA Advocacy, we fought to keep group practices solvent and able to continue treating patients. Unfortunately, these poll results indicate that as practices struggled to keep their doors open, health plans continued to obstruct the delivery of timely patient care (Ernst, 2021).

Approval times increased from weeks to months in some cases. NRHRC (2021) contends in the RCM best practice guide:
Revenue Cycle Management [(RCM) paired with KPI metrics are instrumental tools to support…] shifting industry practices in response to three major trends: real-time processing, consumer-driven health care, and changes in regulations and reimbursement structure ("Revenue Cycle Management," 2021).
COVID-19 Results in Extensive Delays
One can speculate the increase of policy changes and requirements for prior authorizations can be contributed to the Coronavirus. The outcome of swift policy modifications and vague guidance during an unprecedented global crisis will likely impact the consistency and ability to provide services to patients with developmental disabilities, including those with extreme behavioral challenges. Furthermore, payers available to approve PA plummeted as employees decided to use family leave, work from home, voluntary termination, or move to part-time status. This greatly obstructed the turnaround time for credentialing, contracting, and provider enrollment process, as well as claim management and PA approval.
Unwavering Determination and Desire to Improve
By now, most ABA providers are relatively familiar with the front-line healthcare software and technology transforming the behavioral healthcare system today, even if they have not had first-hand experience. On the other hand, after COVID-19 invaded our communities, general knowledge was no longer sufficient. ABA providers needed to become content experts and do so quickly. The future of ABA organizations depends on whether the resources readily available are sufficient to meet the technological demands and updated payer guidelines. Billing management is likely the most complex department with the most spindles reaching out into all the other departments in the organization.
Crucial Departmental Roles
It is understandable to see why an entire software program is needed to help providers manage the many different components involved in the revenue cycle. Being that RCM is what keeps businesses operating, it is arguably the most vital department. The second crucial department is the administrative element. This department also outreaches to many departments and too plays a crucial role in keeping the business running.
Summary
Practice management software can help with the tedious tasks that can be automated and increase efficiency for the team. ABA organizations should be ready to conduct sessions via telehealth modality, maintain proper electronic clinical documentation, utilize HIPAA compliant software for electronic record transmission, data collection, and video conferencing. This is just the beginning of what would be minimally required to stay afloat. The realm of healthcare and electronic technology integration possibilities stretches far beyond these examples and grows increasingly by the day. Therapy Brands is the center of all the software needed to remodel your ABA agency with intelligent technology and software. The software offered is developed to maximize revenue, decrease overhead cost and unnecessary administrative time, improve quality services, and reduce common stressors that can lead to professional burnout within the field.