Medicaid was designed to make healthcare affordable to the underprivileged. It is also beneficial for healthcare service providers as it helps supplement their revenue. However, healthcare providers are tasked with processing their patients' bills and claiming payment from the relevant authorities. This process can seem complex, and clinics often have a lot of questions. Here is an overview of some of healthcare providers' most frequently asked questions about Medicaid billing.   
How is Medicaid Regulated?  
Both the State and Federal governments regulate Medicaid. On one hand, the federal government is responsible for governing the program through the Department of Health and Human Services (DHS). On the other hand, the state government is responsible for administering it locally.  
However, while states can formulate some regulations, they are required to comply with federal procedures and policies. Additionally, every state is required to implement its own unique Medicaid program.  
Healthcare providers need to familiarize themselves with both the federal and state Medicaid rules. It is also worth noting that these rules may change over time, so stay updated.  
Where Does Funding for Medicaid Come From?  
Funding for Medicaid comes from both the state and federal governments. The state government can fund the program via various channels, including state programs, county programs, and private health insurance companies.  
Patients may also be required to cover a fraction of the payment out of their pockets. However, clinics cannot deny patients healthcare services if they are unable to pay for their out-of-pocket co-payments. This is a common problem for many clinics, but providers can hold non-compliant employees liable for their unpaid co-payments.  
Why is the Medicaid Claims Process Important?  
Millions of people rely on the Medicaid program to pay for their healthcare costs. Consequently, Medicaid accounts for a substantial portion of clinics' revenues. As such, healthcare service providers need to understand the Medicaid claims process to unlock payments.  
Medicaid claims' files feature many codes and acronyms. It is important to understand every acronym to avoid making mistakes and wasting time. Some of the most common and important acronyms include:  
CMS (Centers for Medicare & Medicaid Services) refers to the DHS, which is in charge of the Medicaid program.   
EOB (Explanation of Benefits) – this document contains the insurance company's response to your submitted claims.  
EDI (Electronic Data Interchange) – this is an electronic system that enables the transfer of Medicaid data to clearinghouses and carriers.  
HMO (Health Maintenance Organization) is a management plan requiring eligible patients to use primary care providers.  
PPO (Preferred Provider Organization) – this is an alternative management plan to the HMO that allows eligible patients to use any provider of their choice. However, the patient's chosen provider must be under contract with their insurance company.  
It is also important to familiarize yourself with the existing federal and state rules. Additionally, understand the limitations imposed by the state rules and how they associate with federal rules.  
How Can You File Successful Medicaid Claims?  
Claim rejection is one of the most common problems facing healthcare service providers working with the Medicaid program. The majority of rejected claims are flagged because of seemingly small mistakes made during the filing process.  
Consequently, it is important to ensure that all of your claims are error-free to maximize approval rates and minimize processing times. Some of the most important factors to consider when filing a Medicaid claim include:  
Eligibility  
The patient must be eligible for the Medicaid program at the time when the healthcare services were provided. Additionally, the patient's health insurance company must cover the treated condition.   
Patients' Details  
The claim must also contain comprehensive details about the patient. These details include the patient's name, date of birth, group number, and identification number.  
Payer's Details  
The claim must also contain all the details about the payer. These details include the paper's mailing address and identification number.  
Medical Details & Coding 
The claim must also outline each procedure's code and the supporting diagnosis code. This is where many providers make mistakes, leading to requests for clarification and rejections.  
Timing  
Timing is also a major cause of rejection. Consequently, it is advisable to submit your claims before the due date to allow enough time for processing and corrections.  
Licensing  
Your clinic must be licensed to claim Medicaid payments. Additionally, your clinic must not be under investigation for fraud to avoid raising questions and roadblocks in processing and approval.  
Meeting all the requirements of filing a Medicaid claim can seem complex and confusing. Consequently, it is recommendable to invest in healthcare billing software to ease your work and minimize errors. It is also advisable to solicit the services of a professional Medicaid billing agency – it will improve approval rates and save you a lot of time and work as you focus on delivering healthcare services.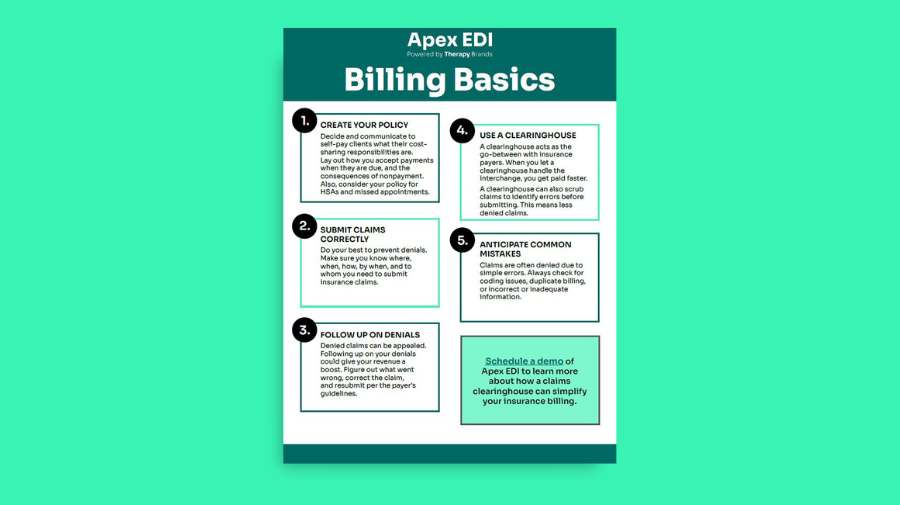 How Do You Determine Which Patients are Eligible for Medicaid?  
Healthcare service providers waste a lot of time and resources filing Medicaid claims for ineligible patients. Consequently, it is advisable to check whether every patient is eligible for the program before beginning the claims process.  
Patients' eligibility for the Medicaid program is based on two factors: income level, and access to financial resources. Eligibility is also divided into various categories, so it is important to verify that the patient is eligible for that particular category. For example, a patient seeking services related to a disability must be eligible for the disability category. Other categories include age, pregnancy, citizenship, immigration status, and blindness.  
Some patients may also be eligible for the program but then lack access to financial resources. In this case, these patients are allowed to spend down, whereby they must pay for the services out of their pockets until they get access to financial resources. Some states don't permit spend downs, so check with your state's laws when verifying the patients' eligibility.  
Summing Up 
Medicaid laws and rules are dynamic and vary by state. As such, it is important to familiarize yourself with the federal and state rules and keep up with developments. It is also a good idea to enlist the support of a claim processing clearinghouse, which can help you make sure you're accurately billing Medicaid and able to maximize your claims approval rate. To learn more about Apex EDI and how we can help you simplify Medicaid billing, schedule a demo of our clearinghouse solution today.